J. V. Fesko's Reforming Apologetics seems to be drawing a lot of attention. Since folk keep asking me about it, I've decided to blog through the book over the summer months. Here's the publisher's summary:
Challenging the dominant Van Tillian approach in Reformed apologetics, this book by a leading expert in contemporary Reformed theology sets forth the principles that undergird a classic Reformed approach. J. V. Fesko's detailed exegetical, theological, and historical argument takes as its starting point the classical Reformed understanding of the "two books" of God's revelation: nature and Scripture. Believers should always rest on the authority of Scripture but also can and should appeal to the book of nature in the apologetic task.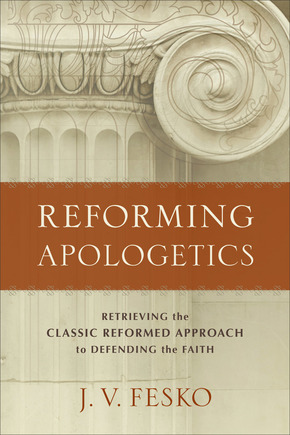 Some preliminary comments:
1. This won't be a formal book review, which would normally be written after reading the entire book. It will be more like a running commentary: I'll read a chapter at a time, summarize its contents, and offer various comments. Some of the points I raise or questions I pose may turn out to be addressed in later chapters; if so, all the better.
2. I should declare my biases at the outset. I come to the book as a card-carrying Van Tilian presuppositionalist. I believe Van Til was basically correct about Reformed theology demanding a distinctively Reformed approach to apologetics which honors the sovereignty of God and the self-attesting nature of Scripture, recognizes the proper relationship between general and special revelation, and takes into account the in-principle antithesis between believing and unbelieving thought. I've set out my views on apologetic methodology in various publications and in my RTS course lectures.
3. There are, however, differences of opinion among Van Tilians, just as there are differences among Reformed Thomists and other classical apologists. For example, I agree with John Frame that presuppositionalism doesn't rule out the use of the classical theistic arguments (e.g., versions of the cosmological and teleological arguments) and evidential arguments (historical, scientific, etc.). I suppose that puts me at odds with some other Van Tilians. On the other hand, I agree with Greg Bahnsen (over against Frame) that there's something distinctive about the transcendental argument which sets it apart from the classical theistic arguments, and that it ought to be the centerpiece of a presuppositional apologetic. I mention these things only to lay my cards on the table at the outset.
4. I also have to confess that I find intramural Reformed debates over apologetic methodology a bit tiresome. I've been involved in these discussions for over two decades now; after a while, you just keep hearing the same arguments back and forth. It's also wearisome having to correct the same old misrepresentations of Van Til over and over again. So I will be interested to see if Dr. Fesko brings anything new to the table that will move the discussion forward. I hope so!
5. I previously commented on an article by Dr. Fesko which makes some criticisms of Van Til and some of his followers, so that serves as part of the backdrop to this series of interactions with his book (which I trust will reflect a collegial spirit!).