Tag Archives:
worldview
[The following review is forthcoming in the Expository Times. It is reproduced here with permission.]
Craig G. Bartholomew & Michael W. Goheen, Christian Philosophy: A Systematic and Narrative Introduction, Baker Academic, 2013. £14.99/$22.99. xii + 289 pp. ISBN 978-0-8010-3911-9
Finding a reliable and engaging one-volume introduction to the history of philosophy from an orthodox Christian perspective is rather like finding an empty taxi on Hogmanay, but Craig Bartholomew and Michael Goheen have significantly eased the task with this new offering.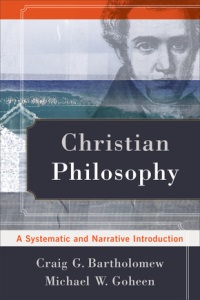 In the opening chapters the authors set out their vision for Christian philosophy. Foundational to this vision is the doctrine of creation; thus philosophy is "the attempt to discern the structure or order of creation, and to describe systematically what is subject to that order." From this base, the authors discuss the importance of philosophy for various elements of the Christian mission: apologetics, practical ethics, cultural engagement, and Christian scholarship. They reflect on the relationship between faith and philosophy, focusing on the concept of a worldview, grounded in the biblical metanarrative, which plays "a vital mediating role between Scripture and philosophy." A worldview is unavoidable, and while a worldview is not equivalent to a philosophy, it can be "developed into" a philosophy.