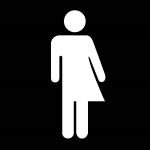 The Nashville Statement was published this week, and the (over)reaction to it has been entirely predictable. It's a fine summary of the biblical Christian position on human sexuality, and (while I might quibble with the wording here and there) I agree with all of its affirmations and denials. What the statement doesn't do (by design) is answer all of the tricky questions that arise for Christians now living in a culture that by and large repudiates the claims of the Nashville Statement. Truth notwithstanding, the tide is flooding the plain and we'll soon be up to our necks.
It's not unfair to say that the Nashville Statement answers easy questions. What does the Bible actually say about natural sexual distinctions and proper sexual relationships? The harder questions concern matters of Christian practice as we engage with the shifting culture around us and grapple with the impact it has on the lives of real people.
I've given several presentations on the topic of transgenderism over the last two years, one of which will be published as an article in the forthcoming issue of RTS's journal, Reformed Faith & Practice. On every occasion, one particular question has been asked during the Q&A session:
How should we deal with people who claim to be transgender and ask us to use different names and pronouns to refer to them, which they claim correctly reflect their true 'gender identity'?